Trelleborg chosen for "Best agriculture Tire" at Brazil's Visão Agro Centro-Sul Awards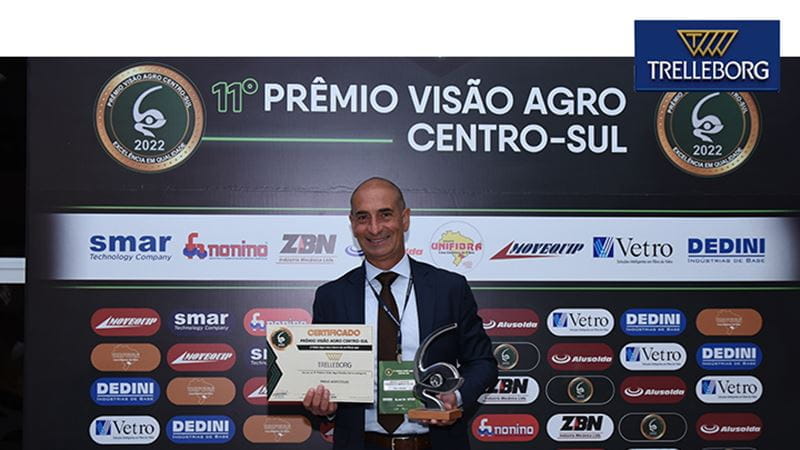 Trelleborg has received the prestigious Visão Agro Centro-Sul Award for "Best Agriculture tire" for its role in the Brazilian agricultural industry
Trelleborg was recognized for its excellence in tire solutions that help farmers boost productivity while reducing costs across their farming operations. The awards ceremony was held in Piracicaba, in San Paolo, Brazil, on July 26, 2022.
Marcelo Natalini, President of Trelleborg in South America, says: "The Visão Agro Centro-Sul awards honor excellence in the Brazilian agricultural industry, and we are very proud to see our efforts to produce the best agricultural tire recognized. Development of innovative and technological solutions is in Trelleborg's DNA and our tire solutions have helped to revolutionize and strengthen the Brazilian market in recent years. This award is the result of our ongoing commitment to customers and the constant drive for innovation that goes into every tire, wheel system and digital solution we make."
Trelleborg has a long history of serving the Brazilian market, collaborating with farmers and vehicle experts to anticipate customers' needs and provide advanced solutions for the most demanding crops, including Brazil's important sugar cane market.
The Visão Agro Centro-Sul award was established in 2007 to recognize agricultural suppliers and experts working to improve agriculture through innovation, in the central and southern regions of Brazil. To date, Visão Agro has awarded about 400 companies and brought 200 industry experts together for the annual event. Award honorees are selected by people across the industry, with a panel of over 40 experts who evaluate the nominees and select the winners.
To find out more about Trelleborg advanced agricultural solutions, high performance tires, new compounds and digital solutions for farming, go to:
www.trelleborg.com/en/wheels/products-and-solutions/agriculture-and-forestry-tires
For more information about the Visão Agro Centro-Sul Award visit:
premio.visaoagro.com.br/nossos-eventos/