Trelleborg: Official Tire Partner for New Holland Training Camp 2023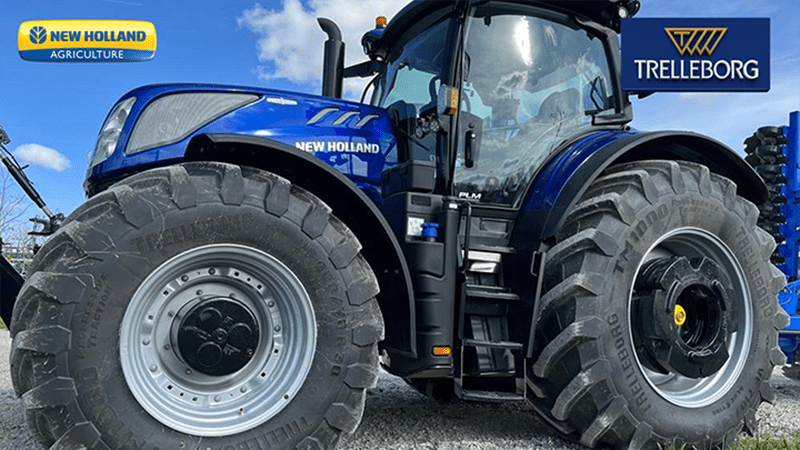 Trelleborg has been selected as the official exclusive tire partner for the New Holland Training Camp 2023, organized by New Holland Agriculture for its extensive European dealer network starting from April 17th till May 19th.
The training event brings more than 900 New Holland dealer personnel from across Europe to learn about the latest innovations in agricultural machinery, focusing on high-powered tractors. Trelleborg, as a tire partner, showcases its advanced tire solutions so dealers can see how the right tire solution can help drive even the most powerful tractors with greater sustainability, productivity and cost savings for agribusiness.
Roberta D'Agnano, EMEA Marketing Director at Trelleborg states: "It's a great privilege to bring our tire expertise to such an important event as the New Holland Training Camp. We pride ourselves in working closely with leading Original Equipment Manufacturers so we can stay ahead of vehicle innovations and design more advanced tire solutions for better performance while still protecting the terrain."
Dealers will be able to test drive New Holland tractors fitted with Trelleborg's high-performance tires including the TM1000 ProgressiveTraction
®
tire range designed for advanced farming. The ProgressiveTraction
®
tread design, fit for the latest generation of machinery, delivers less stress on the soil through superior floatation and unbeatable traction with its extra-wide footprint; while on the road it guarantees low fuel consumption and emissions, premium handling and comfort while extending tire life.
The TM1000 ProgressiveTraction
®
is the perfect fit for the New Holland T7.300 tractor, a next generation long wheelbase tractor made for maximum power and maneuverability both in the field and on road transport. "The TM1000PT is a multi-award winning tire made for the most advanced machinery to ensure premium handling, high load capacity and self-cleaning, thus higher traction. Showing dealers how tire technology is an integral part of farming solutions underscores our shared commitment to bringing optimal solutions to our shared farming communities" remarked D'Agnano.
To find out more about Trelleborg's advanced agricultural solutions, new compounds and digital solutions for farming, go to:
www.trelleborg.com/en/wheels/products-and-solutions/agriculture-and-forestry-tires